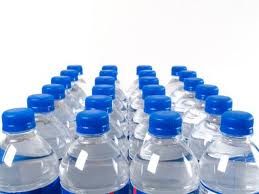 Bottled water has been on my mind for the last week or so. Every time I reach for a bottle of water I think about the effect it has on our environment. I am bothered. I am spoiled by the convenience. I tell myself I am okay because I recycle them. But am I really doing the best thing?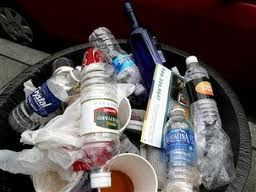 I consider the
trash
cans in the park, the
debris
left behind by the illegal border crossers in our county, the blue recycle bins at our houses. It is a huge problem to wrap our heads around. Less than half of the bottles are recycled. The ones that are recycled are
repurposed
into carpet, clothing and such, which is a very good thing. The rest pollute our landfills and lie there forever.
Some people are proponents of these expensive drink bottles and tell us we should be using them instead of plastic. Are they really healthier? Are they handier when traveling or on a picnic? At work? On a walk?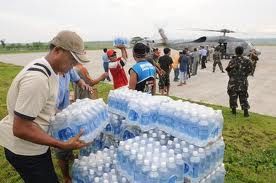 What about all of the good that is done by
Aid
organizations during disasters? They hand out thousands or millions of bottles of water to those who have none. What about those who stockpile for our own
emergencies
when water may not be available for days or weeks. Don't we need bottle water?
So much to consider. My own thoughts lean toward using bottled water, but making sure I
recycle
them when I am done. If I can repurpose them myself, all the better. I refill them several times. I use them to water hanging plants. I put some of my homemade cleaners in them.
We store extra water in preparation for emergencies. We have two dogs and ourselves who would need to stay
hydrated
. We live in the high desert where it is very dry, with humidity in the single digits much of the year. Water is important. We carry it with us whenever we go outside, in the car, and traveling. It is safe. It is convenient.
Do
you
use bottled water? If not, what is your alternative.
If you like this post, be sure to follow this blog before you leave! It's easy peasy...just choose one or more of the options on the right sidebar!

Huge Green Hugs,
Pat