Here's my dilemma...I think I want to plant a garden. The idea of composting is nagging me, too. The two ideas go together and fit right in with my "going green" journey. Why am I having such a hard time deciding if I can do this?
My back will scream if I attempt to bend over to plant or weed, so I would need a raised bed. But not the ones that I see in the gardening shops. I would need something that is counter top height or close to that. That would make my back and my knees happy. Someone would need to build such a high raised bed for me. And, how many would I need? We also have a lot of trees in the backyard, so sun is an issue.
You are getting the picture, I can tell. I can hear you. You are saying, "Man...she can sure find plenty of excuses!" Yep...I can. Why do I do that? I love home grown veggies. I even enjoy working in the dirt. At least I did when I was younger. But, lots of little ol' ladies garden and manage just fine. Why not me?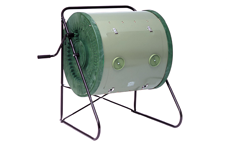 As for composting, I know just the right corner to begin one. I am ready with a homemade bin for under the sink, and I have my eye on a couple of easy compost bins that could be built or bought. I have a vision! No...I haven't acted on it yet.
Rain barrels are on my list, too. We need them whether we garden or not. We live in the desert. We need to save the water. So, how many years must I think about them before I get some? That answer hasn't popped into my head yet.
Do you ever torture yourself with indecision like I do? Or procrastinate until it is ridiculous? What are you putting off for another time?
I
f you like this post, be sure to follow this blog before you leave! It's easy peasy...just choose one or more of the options on the right sidebar!

Huge Green Hugs,
Pat