When I was in high school, I participated in a science fair with my alfalfa brownies. I had read about the vitamins, minerals and nutrients contained in this plant, and since we lived on five acres and had a large alfalfa field, it was a natural fit for me. I wanted to see if I could actually grind the dried leaves into a flour and make brownies. As luck would have it, I was able to accomplish all that, and to my amazement, they actually tasted good!


It has been years since I have thought about those brownies, but I have become a huge fan of alfalfa sprouts, using them in salads and on sandwiches.


Now, I have found some vegetarian alfalfa sprout recipes I want to share with you!
Alfalfa sprouts are a crunchy, fresh food which is easily found in the produce section of your favorite grocery store. They are full of nutrition. Even though we pretty much know about using them on our salads, they really deserve some recipes of their own. Here are some ideas for adding them to your diet, and instructions on how to sprout your own.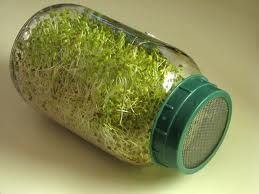 Pour one cup of warm, filtered water into a wide-mouth, quart jar. (I used a tiered sprouter found online or in stores.) Add 1 tablespoon of alfalfa seeds and stir. Cover with a coffee filter and secure it with a rubber band. Let it sit overnight. In the morning, pour off the water and add some fresh, filtered water. Swirl the seeds around and drain most of the water (use a strainer as you rinse the seeds to make sure you don't lose any). Cover the jar again with the coffee filter and rubber band.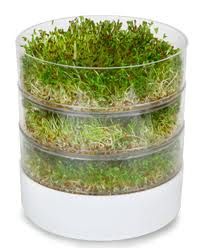 Lay the jar on its side so that the seeds spread along the side of the jar (you may have to shake it a bit). Keep the jar in a dark, cool place and repeat the rinsing of the seeds once daily. (For me, this would be our pantry, which stays cooler than the rest of the kitchen.) In about 36 hours, you should see the beginnings of sprouts. At that time, move the jar out into the light, preferably where it can get some sun. Continue to rinse the sprouts as they grow, and when they reach the desired length, refrigerate them in the jar.
Voila! Your very own DIY alfalfa sprouts!
Okay, now for the recipes...
* Roasted red pepper strips
* Grated sharp cheddar cheese (optional)
Spread about 1/4 cup of hummus down the middle of the tortilla. Layer cheese (if using), red pepper strips, and sprouts on top of the hummus. Fold one side of the tortilla over the contents; fold the other side in and serve seam-side down.
Mmmm, my mouth is watering!
Fruit and Nut Salad (serves 1)
* 1/2 cup mandarin orange segments
* 1/4 cup sunflower seeds or slivered almonds
* 1/2 cup (or more) alfalfa sprouts
* Raspberry vinaigrette to taste (optional)
Place shredded lettuce in bowl. Top with mandarin orange segments, alfalfa sprouts, and sunflower seeds or slivered almonds. Toss together with some raspberry vinaigrette if you like, but the juicy mandarin oranges and fresh-tasting alfalfa sprouts may well eliminate the need for dressing.

Healthy, tempting and delish!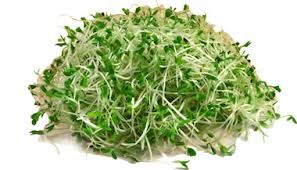 Sprout Sandwich (serves 1)
* 2 slices whole wheat bread
* 1-2 slices of fresh tomato
* Safflower oil mayonnaise
* Generous handful of sprouts
* Tofu lunch meat (optional)
Spread mayonnaise on both slices of bread. Layer lunch meat (if using), sprouts, avocado, tomato, and onion on one slice of bread; top with the other. Easy to prepare, good for you, too!
For a healthy, green juice, try whizzing the following in a blender:
* 1 cup chard leaves, chopped
Add lemon juice to taste, and water to achieve the desired consistency. This will be tested in my new juicer just as soon as I run to the grocery store!
Alfalfa sprouts also make a good topping for gazpacho and other soups. In fact, they can be used as a topping for all kinds of dishes, from stir-fry to - whoa...check this out - ice cream! Really!
Do you have some alfalfa sprout recipes you like to fix? Would you share your recipes and tell us about them in the comment section? We'd love to try yours, too!
If you like this post, be sure to follow this blog before you leave! It's easy peasy...just choose one or more of the options on the right sidebar!

Huge Green Hugs,Pat