Gosh, it has been such a long time since I have blogged here that I feel like a total stranger to the blog universe. I hope you will be kind and help me work my way back into the blogosphere where I once felt so welcomed.
This last week I saw a post on Facebook about Straw Bale Gardening. I had heard of it before, but I had never investigated the whole idea. My first step into this journey was to join a group on Facebook just for people who love or want to try Straw Bale Gardening. Next, I ordered a book on the subject, visited a couple of websites...and poof! I am a believer! I can't wait to try this! Best part?? No weeds, raised beds, very little dirt, easy to set up, composted straw at the end of the season!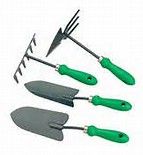 I am still reading the book, and at the same time I am making a mental list (soon to be a printed list since I am really, really good at forgetting things lately!) of the things I will need in order to create this magical garden. I'll post my own photos as I travel this road I am on so you can see just how I am doing and progressing. There are some great photos online, but those were the results of someone else's hard work and I don't want to infringe on their efforts.

Here's a little snag, or maybe not. I live in the high desert of Southeastern Arizona. Do we even grow cereal grain around here? I doubt it. But folks do raise farm animals who probably love the feel of a straw bed, so I am sure someone sells bales of straw. My research tells me I need wheat or oat straw, preferably organic. That may be a problem. How do I know if pesticide was ever used on the particular crop that a particular bale came from? Trust must be an important factor in this search.
So, I am on the prowl for straw...good straw...cheap straw.
Tomorrow I am off to the Sierra Vista Farmer's Market to talk with some of the local growers who may be able to steer me in the right direction. Another good resource are the locals who know where to find the straw around these parts. I already have a few good suggestions.
Stay tuned as I document my adventure in Straw Bale Gardening in my backyard garden.
If you like this post, please leave me a comment so I know you were here and, be sure to follow this blog before you leave! It's easy peasy...just choose one or more of the options on the right sidebar!

Huge Green Hugs,
Pat